Interior design pricing can be influenced by various factors Get interior services in Hyderabad with Best Pricing
Firstly, the level of expertise and experience of the designers involved can greatly affect the cost of the services.

Additionally, the scope of the project should be taken into consideration as larger and more complex spaces may require more resources and time, which can increase the price.

 Moreover, the cost of materials is a significant factor to consider, as higher quality materials may come with a higher price tag but can provide a better overall look and feel.

Another consideration is the cost of labor, which includes the fees of designers, contractors, and architects involved in the project.

Furthermore, many interior design offer a range of pricing options to cater to different budgets and needs.

However, it's crucial to look for an interior design service that provides value for money and transparent pricing information, allowing customers to make informed decisions about their investment.
In above all , considering various factors and options is essential when it comes to interior design and pricing, to find the right fit for both budget and design goals.
Get interior services in Hyderabad with Best Pricing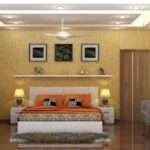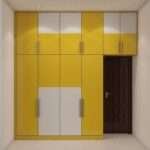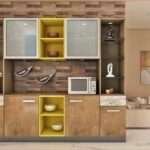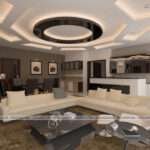 Affordable Interior Design Services without Compromising Quality
Basic Two Bed Room Interiors Frame Package
| Room Type | Work |
| --- | --- |
| Market Price | ₹ 4,50,000.00*-₹ 5,10,000.00* |
| Hall and Living Room (56 sqft) | TV Unit with sleek and modern design |
| Kitchen (49 sqft) | Modular Kitchen Unit with ample storage solutions |
| Dining (49 sqft) | Crockery Unit with elegant and functional design |
| Master Bedroom (10X10) | Wardrobe with open able doors and ample storage space |
| Children Bedroom (10X9) | Wardrobe with open able doors and ample storage space |
| Finishing Material | Matte Finish for a smooth and sophisticated look |
| Plywood | BWP 710 (Boiled Water proof) Guaranteed Gurjan with termite & water proof for durability and longevity |
| Hinges | Best in market Standard Hinges for smooth and easy operation |
| Accessories | Grilled Baskets in Kitchen for added storage and organization |
| Adhesive | Best in market for a secure and sturdy finish |
Upgrade your space with our premium package
| Room Type | Work |
| --- | --- |
| Market Price | ₹ 6,50,000.00*- ₹ 9,50,000.00* |
| Hall and Living Room (56 sqft) | TV Unit with sleek and modern design |
| Kitchen (49 sqft) | Modular Kitchen Unit with ample storage solutions |
| Dining (49 sqft) | Crockery Unit with elegant and functional design |
| Master Bedroom (10X10) | Wardrobe with open able/Sliding Doors for added functionality and style |
| Children Bedroom (10X9) | Wardrobe with open able doors and ample storage space |
| Finishing Material | Matte & Gloss Finish for a unique and versatile look |
| Plywood | BWP 710 (Boiled Water proof) Guaranteed Gurjan with termite & water proof for durability and longevity |
| Hinges | Best in market Standard Hinges for smooth and easy operation |
| Accessories | Grilled Baskets in Kitchen for added storage and organization |
| Adhesive | Best in market for a secure and sturdy finish |
Upgrade your space with our luxury package
| Room Type | Work |
| --- | --- |
| Market Price | ₹ 9,50,000.00*- ₹ 12,00,000.00* |
| Hall and Living Room (56 sqft) | TV Unit with sleek and modern design |
| Kitchen (49 sqft) | Modular Kitchen Unit with ample storage solutions |
| Dining (49 sqft) | Crockery Unit with Profile Shutters, Breakfast Counter. |
| Master Bedroom (10X10) | Wardrobe with openable doors/ Sliding Doors, Dressing Unit, King Size Bed with Storage and Head Board, Tv Unit. |
| Children Bedroom (10X9) | Wardrobe with openable doors/ Sliding Doors, Study Unit, Queen Size Bed with Storage and Head Board. |
| Finishing Material | Matte Finish/Glossy Laminate ,Vineer /Duco Finish |
| Plywood | BWP 710 (Boiled Water proof) Guaranteed Gurjan with termite & water proof for durability and longevity |
| Hinges | EBCO, ENOX, HETTICH Brands Soft closer Hinges and Slider |
| Accessories | Grilled/Tandem Box Baskets in Kitchen |
| Adhesive | Best in market for a secure and sturdy finish |
| Celing | Gypsum |
Basic Three Bed Room Interiors Design Package
| Room Type | Work |
| --- | --- |
| Market Price | ₹ 4,50,000.00*-₹ 5,10,000.00* |
| Hall and Living Room (56 sft) | TV Unit with sleek and modern design |
| Kitchen ( 49 sft) | Modular Kitchen Unit with ample storage solutions |
| Dining (49 sft) | Crockery Unit with elegant and functional design |
| MasterBedroom (10X10) | Wardrobe with openable doors |
| Children Bedroom (10X9) | Wardrobe with openable doors |
| Finishing Material | Matte Finish for a smooth and sophisticated look |
| Plywood | BWP 710 (Boilied Water proof) Guranteed Gurjan with termite proof & water proof |
| Hinges | EBCO, ENOX Brands Standard Hinges |
| Accessories | Grilled Baskets in Kitchen |
| Adhesive | Jivan Jor / Fevicol |
Upgrade your space with our premium package
| Room Type | Work |
| --- | --- |
| Market Price | ₹ 6,50,000.00*- ₹ 9,50,000.00* |
| Hall and Living Room (56 sft) | TV Unit with sleek and modern design |
| Kitchen ( 49 sft) | Modular Kitchen Unit with ample storage solutions |
| Dining (49 sft) | Crockery Unit with elegant and functional design |
| MasterBedroom (10X10) | Wardrobe with openable/Sliding Doors |
| Children Bedroom (10X9) | Wardrobe with openable doors |
| Finishing Material | Matte & Gloss Finish for a unique and versatile look |
| Plywood | BWP 710 (Boilied Water proof) Guranteed Gurjan with termite proof & water proof |
| Hinges | EBCO, ENOX Brands Standard Hinges |
| Accessories | Grilled Baskets in Kitchen |
| Adhesive | Jivan Jor / Fevicol |
Upgrade your space with our luxury package
| Room Type | Work |
| --- | --- |
| Market Price | ₹ 9,50,000.00*- ₹ 12,00,000.00* |
| Dining (56 sft) | Crockery Unit with elegant and functional design with Profile Shutters, Breakfast Counter. |
| MasterBedroom (11X10) | Wardrobe with openable doors/ Sliding Doors, Dressing Unit, King Size Bed with Storage and Head Board, TV Unit with sleek and modern design. |
| Children Bedroom (10X10) | Wardrobe with openable doors/ Sliding Doors, Study Unit, Queen Size Bed with Storage and Head Board. |
| False Ceiling | Ceiling for complete Flat up to 800sft |
| Finishing Material | Matte Finish/Glossy Laminate ,Vineer /Duco Finish |
| Plywood | BWP 710 (Boilied Water proof) Guranteed Gurjan with termite proof & water proof |
| Hinges | EBCO, ENOX, HETTICH Brands Soft closer Hinges and Slider |
| Accessories | Grilled/Tandem Box Baskets in Kitchen |
| Adhesive | Jivan Jor / Fevicol |
| Celing | Gypsum |
Basic Three Bed Room Interiors Design Package
| Room Type | Work |
| --- | --- |
| Market Price | ₹ 4,50,000.00*-₹ 5,10,000.00* |
| Hall and Living Room (56 sft) | TV Unit with sleek and modern design |
| Kitchen ( 49 sft) | Modular Kitchen Unit with ample storage solutions |
| Dining (49 sft) | Crockery Unit with elegant and functional design |
| MasterBedroom (10X10) | Wardrobe with openable doors |
| Children Bedroom (10X9) | Wardrobe with openable doors |
| Finishing Material | Matte Finish for a smooth and sophisticated look |
| Plywood | BWP 710 (Boilied Water proof) Guranteed Gurjan with termite proof & water proof |
| Hinges | EBCO, ENOX Brands Standard Hinges |
| Accessories | Grilled Baskets in Kitchen |
| Adhesive | Jivan Jor / Fevicol |
Upgrade your space with our premium package
| Room Type | Work |
| --- | --- |
| Market Price | ₹ 6,50,000.00*- ₹ 9,50,000.00* |
| Hall and Living Room (56 sft) | TV Unit with sleek and modern design |
| Kitchen ( 49 sft) | Modular Kitchen Unit with ample storage solutions |
| Dining (49 sft) | Crockery Unit with elegant and functional design |
| MasterBedroom (10X10) | Wardrobe with openable/Sliding Doors |
| Children Bedroom (10X9) | Wardrobe with openable doors |
| Finishing Material | Matte & Gloss Finish for a unique and versatile look |
| Plywood | BWP 710 (Boilied Water proof) Guranteed Gurjan with termite proof & water proof |
| Hinges | EBCO, ENOX Brands Standard Hinges |
| Accessories | Grilled Baskets in Kitchen |
| Adhesive | Jivan Jor / Fevicol |
Upgrade your space with our luxury package
| Room Type | Work |
| --- | --- |
| Market Price | ₹ 9,50,000.00*- ₹ 12,00,000.00* |
| Dining (56 sft) | Crockery Unit with elegant and functional design with Profile Shutters, Breakfast Counter. |
| MasterBedroom (11X10) | Wardrobe with openable doors/ Sliding Doors, Dressing Unit, King Size Bed with Storage and Head Board, TV Unit with sleek and modern design. |
| Children Bedroom (10X10) | Wardrobe with openable doors/ Sliding Doors, Study Unit, Queen Size Bed with Storage and Head Board. |
| False Ceiling | Ceiling for complete Flat up to 800sft |
| Finishing Material | Matte Finish/Glossy Laminate ,Vineer /Duco Finish |
| Plywood | BWP 710 (Boilied Water proof) Guranteed Gurjan with termite proof & water proof |
| Hinges | EBCO, ENOX, HETTICH Brands Soft closer Hinges and Slider |
| Accessories | Grilled/Tandem Box Baskets in Kitchen |
| Adhesive | Jivan Jor / Fevicol |
| Celing | Gypsum |
Basic Three Bed Room Interiors Design Package
| Room Type | Work |
| --- | --- |
| Market Price | ₹ 6,50,000.00*-₹ 7,10,000.00* |
| Hall and Living Room (56 sft) | TV Unit with sleek and modern design |
| Kitchen ( 49 sft) | Modular Kitchen Unit with ample storage solutions |
| Dining (49 sft) | Crockery Unit with elegant and functional design |
| MasterBedroom (10X10) | Wardrobe with openable doors |
| Children Bedroom (10X9) | Wardrobe with openable doors |
| Finishing Material | Matte Finish for a smooth and sophisticated look |
| Plywood | BWP 710 (Boilied Water proof) Guranteed Gurjan with termite proof & water proof |
| Hinges | EBCO, ENOX Brands Standard Hinges |
| Accessories | Grilled Baskets in Kitchen |
| Adhesive | Jivan Jor / Fevicol |
Upgrade your space with our premium package
| Room Type | Work |
| --- | --- |
| Market Price | ₹ 8,50,000.00*- ₹ 10,50,000.00* |
| Hall and Living Room (56 sft) | TV Unit with sleek and modern design |
| Kitchen ( 49 sft) | Modular Kitchen Unit with ample storage solutions |
| Dining (49 sft) | Crockery Unit with elegant and functional design |
| MasterBedroom (10X10) | Wardrobe with openable/Sliding Doors |
| Children Bedroom (10X9) | Wardrobe with openable doors |
| Finishing Material | Matte & Gloss Finish for a unique and versatile look |
| Plywood | BWP 710 (Boilied Water proof) Guranteed Gurjan with termite proof & water proof |
| Hinges | EBCO, ENOX Brands Standard Hinges |
| Accessories | Grilled Baskets in Kitchen |
| Adhesive | Jivan Jor / Fevicol |
Upgrade your space with our luxury package
| Room Type | Work |
| --- | --- |
| Market Price | ₹ 12,50,000.00*- ₹ 14,00,000.00* |
| Dining (56 sft) | Crockery Unit with elegant and functional design with Profile Shutters, Breakfast Counter. |
| MasterBedroom (11X10) | Wardrobe with openable doors/ Sliding Doors, Dressing Unit, King Size Bed with Storage and Head Board, TV Unit with sleek and modern design. |
| Children Bedroom (10X10) | Wardrobe with openable doors/ Sliding Doors, Study Unit, Queen Size Bed with Storage and Head Board. |
| False Ceiling | Ceiling for complete Flat up to 800sft |
| Finishing Material | Matte Finish/Glossy Laminate ,Vineer /Duco Finish |
| Plywood | BWP 710 (Boilied Water proof) Guranteed Gurjan with termite proof & water proof |
| Hinges | EBCO, ENOX, HETTICH Brands Soft closer Hinges and Slider |
| Accessories | Grilled/Tandem Box Baskets in Kitchen |
| Adhesive | Jivan Jor / Fevicol |
| Celing | Gypsum |